What is Steri-bottle?
It is a single use, pre-sterilized infant feeding bottle and teat represents a revolution in infant feeding and baby accessory retailing. It offers anytime convenience at home or on the move. Unique Selling Proposition Steri-Bottle® gives parents freedom from washing and sterilizing bottles, with complete & amp; assured safety.
Steri-Bottle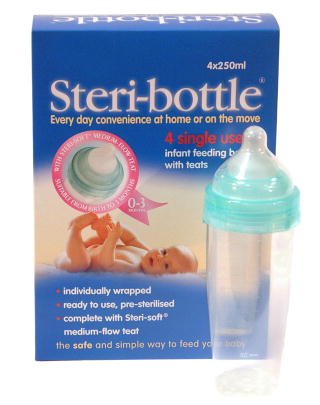 Key Features of Steri-Bottle
Convenience – everything you need in one pack.
Safety – sterility assured, once filled it is locked.
Simplicity – just fill and put the cap on.
Utility – wide neck, excellent teat, leak-proof cap.
Low cost – similar expenditure to nappies.
Market opportunity
Potential to become as ubiquitous as the disposable nappy. Global market in excess of £1 billion steri-Bottle® – A Unique Breakthrough
Steri-Bottle® is the world's first rigid, sterile and disposable complete infant feeding unit that can be manufactured at a cost allowing mass-market adoption. The product represents a fundamental development in the FMCG marketplace that has the potential to become as ubiquitous as the disposable nappy. Steri-Bottle® offers far superior features and consumer benefits to current competitive offerings. Steri-Bottle® has the ability to revolutionize the baby feeding category under one global brand.
It is profitable – the product generates high margins for Steribottle Ltd, and for the associated manufacturer, wholesaler, retailer it also carries a strong degree of intellectual property protection. Steribottle has developed a global portfolio of patents, trademarks and design registrations
Key Product Features
Sterility, safety – Steri-Bottle® is manufactured so that it is clean, sterile and ready-to-use directly from the package, e.g. bottle, cap, teat, attachment ring are all sterile. This represents a breakthrough for consumer convenience and peace of mind.
Single-use obsolescence, tamper proof safety – Steri-Bottle® has been designed to lock after closure in order to assure security of the feed and obsolescence after each use. This function is desired by the consumer for safety/security reasons and ensures high volume usage relative to the number of baby feeds.
Convenience – No bottle cleaning or home sterilization is required to make a Steri-Bottle® ready for feeding. The product is individually wrapped, pre-sterilized and ready to go – at home, on the move, anywhere, any time. Filling the bottle with a parent's choice of liquid is the only step required to feed the baby. The bottle offers a wide mouth design and rigid structure for easy filling.
Low price – A breakthrough in design and manufacturing process has been developed to meet mass market pricing standards, thus allowing widespread consumer acceptance for the first time.
Recyclables – Meets all EU and US environmental standards for recyclable. 100% recyclable – all elements made of same recyclable plastic family.
Proprietary – Has patents pending covering key features of the concept, design and manufacturing process
Compliments a Range of Product Lines
Steri-Bottle® is a potential complement to almost any baby product line. The strongest examples include:
Other Baby Bottles – Steri-Bottle® would enhance the current baby bottle offered by manufacturers of reusable bottles and disposable baby bottle liners.
Disposable Diapers & Baby Wipes – Steri-Bottle® is a logical brand extension to the major disposable diaper and baby wipe brands. Like other disposable products, Steribottle represents convenience
Infant Formula – An offer which combines infant formula and a disposable bottle would provide parents with the "total feed package"
Steri-Bottle® represents the opportunity to gain significantly greater "shelf space" for a branded product in retail outlets
Related Posts: